2017 Moto Guzzi V9 Bobber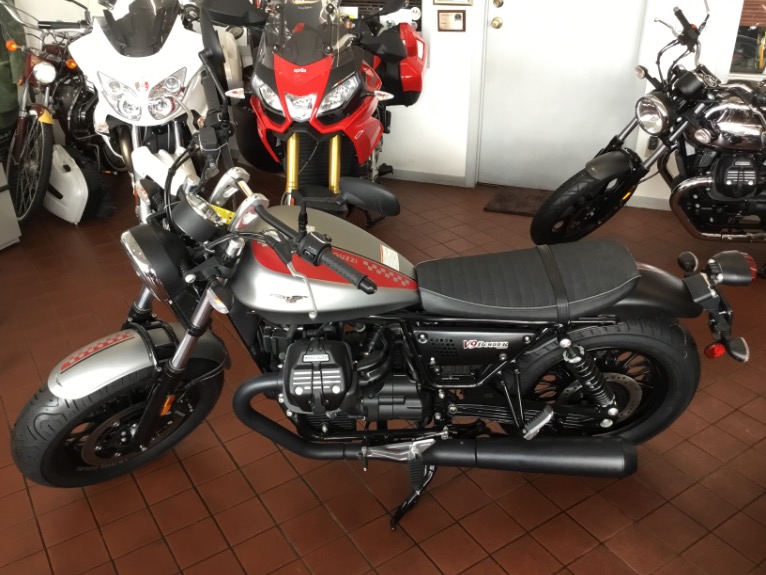 | | |
| --- | --- |
| Stock #: | 11047 |
| Engine size: | 853cc 90 V-twin 4-stroke |
| Transmission: | Manual |
| Exterior color: | Grigio Sport |
| Interior color: | Black |
| VIN: | ZGULHU011HM000127 |

Save

remove

Contact

Print
Options
an immobilizer and USB port located under the steering headuseful for charging external devices.
The new electronic instrumentationwith a single circular dialis also consistent with the style of the two the V9s. The speedometer has an analogue dialwhile all other information is contained in the digital box: odometerpartial trip and daily trip (with automatic reset after eight hours after shutdown)the trip timeinstantaneous and average fuel consumptionclockoutside temperatureaverage speedMGCT levelin addition to the gear position and shift indicatorwhose idle and maximum value can be adjusted by the user. In this way the rider can keep a check on a determined range of engine revolutionsfor example during the run-inor to minimize fuel consumption. The extensive catalogue of accessories includes the MG-MPthe Moto Guzzi multimedia platform that connects a smartphone to the vehicle to provide an exceptional quantity of information useful for the journey.

MOTO GUZZI MEDIA PLATFORM CONNECTS THE V9 TO THE WORLD
An optional multimedia platform is available for Moto Guzzi V9 Roamer and V9 Bobber riders. MG-MP is an innovative multimedia system that allows you to connect the bike to your smartphone and consequently to the web. With this applicationdownloadable free from the App Store and Google Playyour smartphone (iPhone or Android) becomes an actual sophisticated on board multifunctional computer and the link between the vehicle and the Internet.
The wireless connection allows you to simultaneously view a set of vehicle information on a smartphone screenso you can constantly have an eye on the travel parameters. The smartphone's touch screen allows you to view five parameters of your choice at a timeselected from a vast menu and including the speedometerrev counterinstant powerinstant torqueinstant and average fuel consumptionaverage speed and battery voltagelongitudinal acceleration and extended trip computer. The Eco Ride feature helps to limit fuel consumption and to maintain eco-compatible riding conductproviding a brief assessment of the results obtained during the trip.
You can record trip data and review them on your computer or directly on your smartphoneanalysing the distance covered together with the vehicle's operating parameters. The system also allows you to easily locate your vehicle when you park in a strange placeautomatically saving the position where it was switched off. MG-MP includes the Grip Warning function which replicates the indications on traction control operation for maximum visibility and provides information in real time on your riding performance with relation to the road surface conditions. A dedicated indicator light warns in the event of excessive use of available grip. Thanks to the synergistic use of gyroscopes and the information coming from the vehiclethe smartphone becomes a sophisticated instrument to measure the lean angle in turns thanks to algorithms developed specifically for the new Moto Guzzi. The limit thresholds can be set both for lean angle as well as vehicle and engine speed. When these limits are exceeded the relative indicator lights will come on or the virtual dashboard will flash.